Holistic Heaven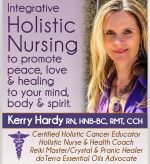 Business Name:
Holistic Heaven
Full Description:
**  CHHF EXHIBITOR  **
CHHF Focus Topic: Essential Oils
Wellness Advocate, dōTERRA International
Kerry Hardy RN, HNB-BC, RMT, CCH is a graduate of the UConn School of Nursing where she was a member of the Sigma Theta Tau International Honor Society of Nursing. She has practical experience in disease processes and prevention, with field experience at Norwalk Hospital and St. Vincent's Oncology Department, local nursing homes, and homecare agencies, including hospice care with The Connecticut Hospice.
Kerry is also a Board Certified Holistic Nurse from the American Holistic Nursing Association. Her work in Health Coaching is enhanced by her deep understanding of the healing benefits of Essential Oils and Nutritional Supplement Science, along with her hands-on experience in healing energy work as a practicing Reiki Master. Kerry is passionate about family health and  treating the mind, body, and spirit as one. Kerry sits on the Medical Advisory Panel with www.BeatCancer.org., is the Director of Research and Program Implementation for the team at www.employeehealthmatters.com and  is available for private consults  through her website: www.HolisticHeavenWellness.com.
Kerry Hardy RN, HNB-BC, RMT, CCH at Holistic Heaven 203-895-5134
mydoterra.com/holisticheavenwellness
employeehealthmatters.com
beatcancer.org