Little Britches Therapeutic Riding Inc.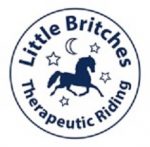 Business Name:
Little Britches Therapeutic Riding Inc.
Full Description:
**  CHHF EXHIBITOR  **
CHHF Focus Topic: Equine Therapy

Little Britches, based at 2 different locations in Litchfield County, provides equine assisted activities and therapies to individuals with disabilities.
Our riding and driving instructors are certified by our parent organization Professional Association for Therapeutic Horseman (PATH) founded in 1969 to promote equine activities for people with disabilities. Individual riders are supported by a team of volunteers who function as leaders or side walkers. Occupational therapists, physical therapists and speech pathologists may be added to these teams in specific circumstances.
We serve individuals with a variety of special needs including but not limited to the following:
– Traumatic brain injury
– Speech abnormalities
– Attention deficit disorder
– Autism
– Cerebral Palsy
– Down syndrome
– Anxiety disorders
– Multiple sclerosis
– Processing delays